The Airport Industry is taking notice of the need and benefit of delivering more than safe, on-time arrivals of passengers and their luggage.
More and more, airports- and the entities that manage them- are focusing efforts on improving the passenger experience.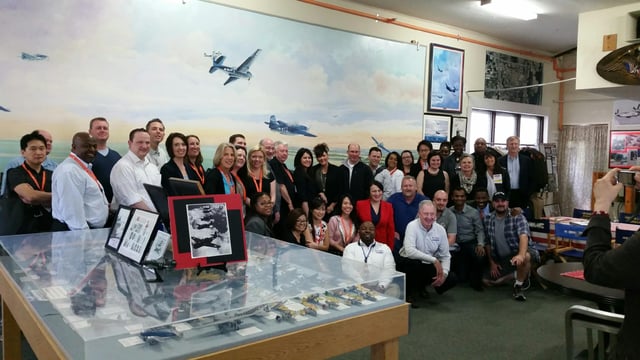 In photo: Conference attendees touring Ft. Lauderdale-Hollywood International Airport.
AAAE (American Association of Airport Executives) and ACI (Airports Council International) recently teamed up to present the inaugural Airport Customer Service Symposium. The gathering, last week on Ft. Lauderdale, FL, USA attracted airport executives and vendors in the marketing and operations fields, as well as those who lead the airport experience, and those that manage airport greeters and ambassador programs.
Working in and with the airport industry for over 20 years, CSE President & CEO, Lise D'Andrea jumped at the chance to get involved, and saw this as an opportunity to share her passion for passenger service. Having been to many events supporting airport leasing and operations, she found it was refreshing to focus on airport customer service.
"The AAAE/ACI Airport Customer Experience Symposium was an informative and exciting program that highlighted many important aspects of airport customer experience. It was exciting to take part in such a successful and innovative event in the heart of beautiful Ft. Lauderdale! The sessions were informative and the conference overall was well planned and executed, utilizing industry talent and expertise. Participants were eager to learn and eager to share in best practices."
While airport service is generally attributed to that offered by front line employees in concession locations, many airport exectives and teams are realizing the importance of engaging the whole airport in service deivery. As a result, there has been increasing interest and effort in including operations teams, both land-side and air-side in customer service improvement programs.
As an example, session topics at the Symposium included an exploration of:
The research on the correlation between high levels of passenger satisfaction with increased airport revenue
Best practices in using social media to enhance the customer experience
The evolution of customer care and volunteer programs in airports
Addressing the needs of people with diabilities within the airport environment
Best practices in making the international passenger entry process more welcoming in the airport
The next time you have the pleasure to fly, take note- is the service you are receiving improving? The airport community is certainly striving toward it.
For more about improving passenger experience, see below:
And, explore our Blogroll:
Airport Customer Service- Is That An Oxymoron?
Airport Customer Service Programs Are Taking Off
Airport Customer Service: Not Just For Concessions Anymore