Turn your top performers into CX Champions.
Exceptional customer experiences begin with leaders and managers.
The best change agents are not only respected leaders with tenure and a deep knowledge of the organization, but also engaged and motivational coaches who help their teams achieve excellence. Managers can hold pivotal roles in translating strategy into measurable results when they are trusted by employees and are empowered with the skills and ability to create a service culture. By prioritizing the development of leaders, managers and supervisors to champion and support service culture standards and behaviors, a service culture grows and flourishes.
Building your bench-strength.
Great leaders are not born, they're made. At CXE, we know that exceptional managers are the driving force to engage employees, improve performance and inspire their teams to produce results. We work with organizations to strengthen the engagement of managers and build their capacity for leading customer experience transformation. This includes providing training and programs tailored to the specific needs of managers who are critical connectors between an organization's vision, mission and values and bottom-line results.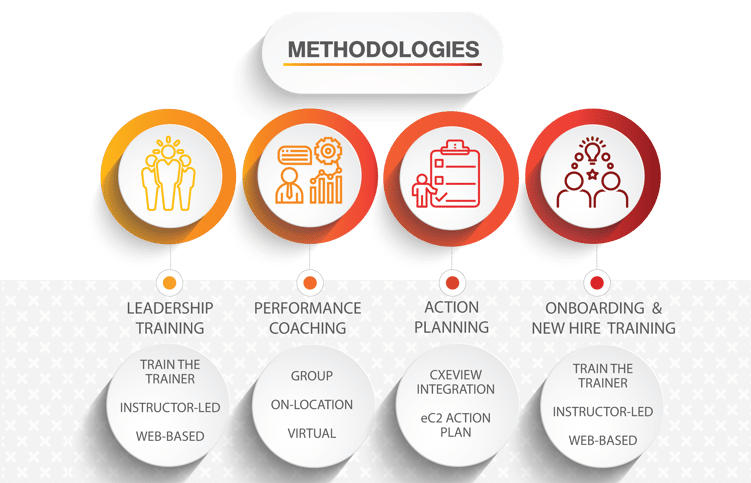 Manager and Leader Development Programs
A good leader can produce results, but a great leader can achieve excellence. CXE offers robust leader and manager development programs to turn top performers into CX change agents:
Manager/Leadership Training: As the workplace continuously evolves, so does our idea of what makes a great leader. To adapt, leaders must have the skills necessary to help organizations respond to changing environments. One of the most powerful tools we have is to lead by example and inspire teams. CXE Manager/Leadership Training teaches managers how to successfully engage, motivate and develop their teams by creating a culture that engages and inspires employees.
Performance Coaching: CXE works with leaders to develop their coaching skills to lead winning teams. Leaders must promote a coaching culture that helps deliver outstanding guest experiences while driving results by effectively using coaching strategies. Coaching is a foundational skill for continuous improvement that not only focuses people on performance, but engages team members and motivates them to create wonderful experiences for everyone.
Recognition & Appreciation: Appreciated employees work harder and smarter and measurably contribute to positive customer and employee experiences. Empowering and encouraging management to recognize and celebrate their employees demonstrates the core beliefs of an organization's service culture. The recognition that comes from praise is instantaneous and makes a direct correlations between CX standards and behaviors.
Everything DiSC® Management: DiSC® is a personalized learning experience proven to increase the effectiveness of anyone in a management role. Participants deepen their understanding of themselves, their direct reports, and their own managers using the DiSC® model while learning how their management style influences their approach to decision-making, time management, and problem solving. Participants walk away with concrete strategies to help them adapt to the styles of their direct reports, enabling them to bring out the best in their people.