Airports are busier than ever and fliers (travelers) have become more demanding when it comes to service and services offered in airports.
Kim Day Skift of the Denver Airport remembers, "There was a time when travelers had few expectations for airports. Your options for food at an airport was a hot dog on a spinning roller, bad burger, cup of coffee. After all, airports were just places to catch a plane.
The role has reversed, travelers now demand low fares from airlines and an increase in services from airports!"
Times were more simple then and thank goodness air travel has evolved. For better or worse, passengers now spend more time in airports than ever before; and the industry is beginning to welcome them with open arms.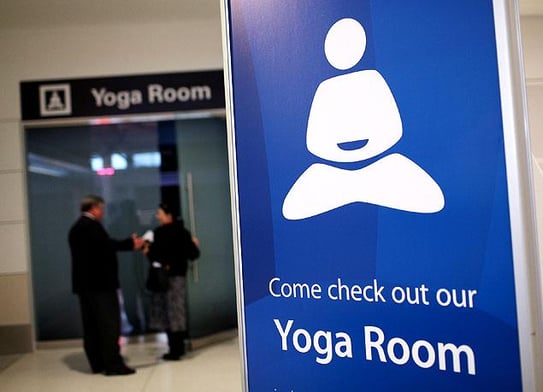 The Yoga room at San Francisco International Airport
Many airport operations teams are realizing the bottom line benefits of designing a passenger experience that is not only enjoyable-but anticipated. From curb to gate, there are numerous opportunities to delight travelers. Airport customer service is not just for concessions anymore!
Landside Operations
Pre-security areas are often whisked by in haste so that passengers can "get through security" and have that elephant off their back. However, there are plenty of opportunities to provide service and comfort landside. Consider in-terminal transportation, baggage claim areas, check-in areas and food and beverage locations as the first touchpoints in the airport journey. Set and support service expectations among the employees, the physical plant, and processes in these areas.
Take advantage of technology, and tech savvy passengers who download the airport app for wayfinding, wait times and to check flight status, etc.; or find restaurant locations and menus and then order food to be delivered to the gate.
Airside Operations
Post-Security areas are where passengers spend most of their visit time in an airport. Whether they are departing or enjoying a layover, these passengers are prime candidates for "wow-ing". Consider intra-terminal transportation, restrooms, concessions including food and beverage operations, airlines and TSA as opportunities to improve employee interactions, freshen up the physical spaces and simplify the processes.
Efficient operations that reduce stress, save time, and add to the experience. Personalized services and interesting options and amenities such as yoga rooms, mother rooms, interactive play areas for families, kid friendly options that surprise and delight passengers.
For decades, popular belief has remained that only customer-facing people and mainly retail and food & beverage employees were the people and locations expected to deliver excellent customer service. To meet the demands of today, airports are stepping up and supporting their whole operation; landside and airside, concessions and services to deliver better service, better services, and better passenger experiences.
Is YOUR airport doing the same?
Want to improve service in your airport? Check out our resources below: