It's February and love is in the air, both on the ground and at 10,000 feet! Airports and airlines across the world are recognizing Valentine's Day as a perfect opportunity to "show the love" to their customers in a variety of creative ways. Last year at our own "Balt-amour" International Airport, passengers were treated to everything from flowers and chocolates, to parking and concessionaire discounts. So, don't hesitate to travel on February 14th. Instead, get ready to be struck by cupid's arrow!
Here's a list of our top five favorite ways airports and airlines showed guests just how much they cared last year:
1. TEDDY BEAR LOVE: Southwest Airlines showed true SW Heart by attaching teddy bears to passenger's luggage before loading onto carousels. It is also one of the few days the airline, whose stock ticker symbol is LUV, offers passengers over 21 a free alcoholic beverage.
2. LOVE FROM ATLANTA: Hartsfield-Jackson Airport in Atlanta created a "Love Wall" where guests could write personalized love messages. At 24 feet long, the festively decorated wall near the atrium remained displayed throughout the month.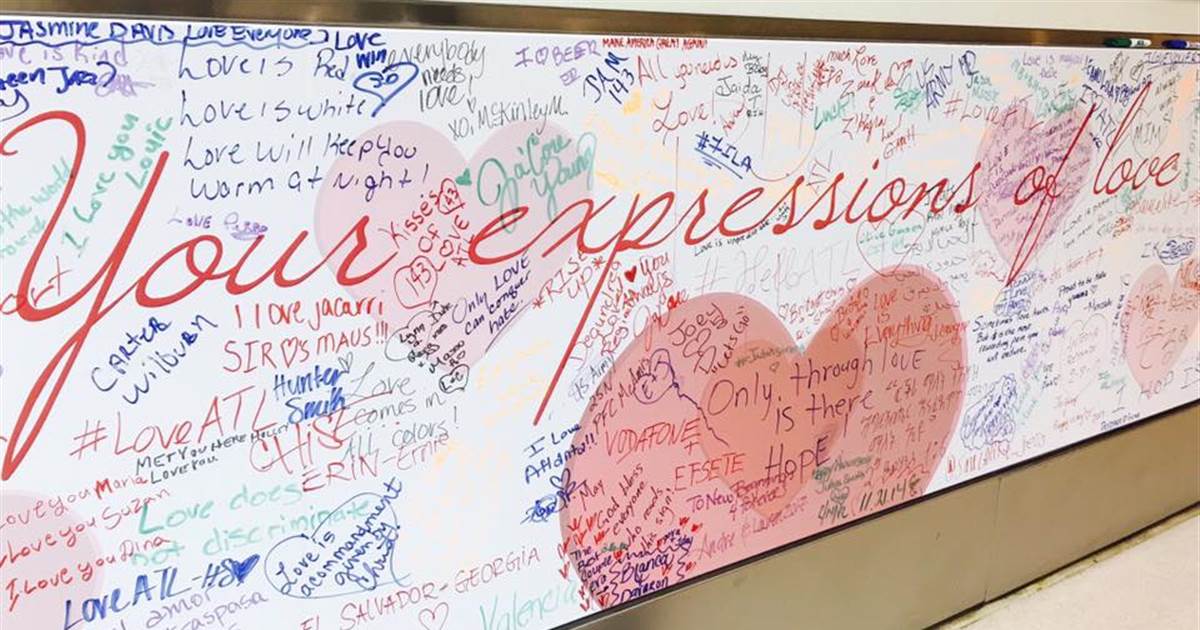 Photo Credit: NBC News

3. ALOHA, CUPID: Hawaiian Airlines celebrated Valentine's Day partnering with its World Elite Mastercard campaign #WeLoveBeingYourCard. Passengers on two flights were surprised with long-stem roses, colorful candied popcorn, and 500 Hawaiian miles.
https://www.youtube.com/watch?v=gTL90BzQzEI
4.VA HAS HEART: Virgin America teamed up with the American Heart Association to raise awareness about heart disease. The also created a playlist on Spotify for people "flying solo" on Valentine's Day, which included songs like "Ridin' Solo" by Jason Derulo and "Un-Break My Heart" by Toni Braxton.
5. DANCE THE NIGHT AWAY: Dallas Fort Worth Airport spread love through chocolates, roses, and tango and tweeted, #ValentinesDay