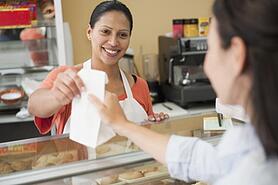 I was at a networking event recently, chatting with a group of entrepreneurs. When they asked about our company, what work we perform and what markets we serve, I mentioned that we do lots of work in the airports. "How so?" they asked. When I told them about how we work with airport concession management companies to improve service delivery in the airport…they were intrigued.
It went something like this:
Them: "What do you mean you work in the airport—do you train TSA? They need it!"
Me: (Polite chuckle) "Generally our work is focused more on the concessionaires—the food and beverage locations, special services and retail stores."
Them: "Wow! I didn't realize that would be a focus for the airport...do each of the stores hire you individually?"
Me: "Each of the concession locations usually contracts with either the local airport authority or a concessions management company who leases the space. It is these entities that hire us to ensure that each passenger has a positive experience at their locations in the airport—as the airport is oftentimes a traveler's first impression of a city."
Them: "Cooool."
I have to admit, it is kinda "niche-y"! We have been working in the airports since the advent of the airport retail boom, so it is second nature to us. I can imagine, though, that people may wonder: Who knew that so much care would be given to improve service in an airport?
Seriously, when you think about it:
Passengers are trapped in the terminal

—

basically a captive audience

—

why spend money on training?
The airport is not competing with other retail venues
The main focus is getting to the final destination

—w

hy pay so much attention to the stores and restaurants?
Oftentimes customers are in a hurry to catch their flight…no time to piddle in the stores
Passengers are nervous, excited or sad

—

depending on their reason for flying
However, as passenger traffic increased, airport managers realized the opportunity to turn all of the circumstances above into delightful experiences and cold hard cash. Passengers now have plenty of time to shop, especially after the security changes post September 11. People come to the airport earlier now and often "grab a bite" or browse the shops to pass time. Also, airport retail has become quite shi-shi. The stores are often selling big name brands as well as local craft merchandise. There are airport-concept only restaurants opening in terminals across the country. Retail is expanding pre and post security and terminals are now being marketed as places to shop instead of the malls!
Airports are squarely in the retail and food and beverage business and supporting these locations with service improvement such as customer service training, consulting and mystery shopping is big business. The airport landscape continues to be more and more competitive, and with concession employee bases ranging from 500-2000 it behooves airports to bring their "A" game. So, combining great architecture and outstanding products with employees who are engaged and happy to help creates delightful passenger experiences throughout the airport industry.
Interested in starting a service program in your airport? Download our sample Airport Sustomer Experience program to see what it may look like- and get started today!