According to a survey conducted by CSE at the Airport Revenue News Conference in March of 2015, 75% of airport executives agreed that airport passenger experience is driven solely by FRONT LINE EMPLOYEES.
Do you agree?
Here's a quick summary of our annual Airport Customer Service Survey results below: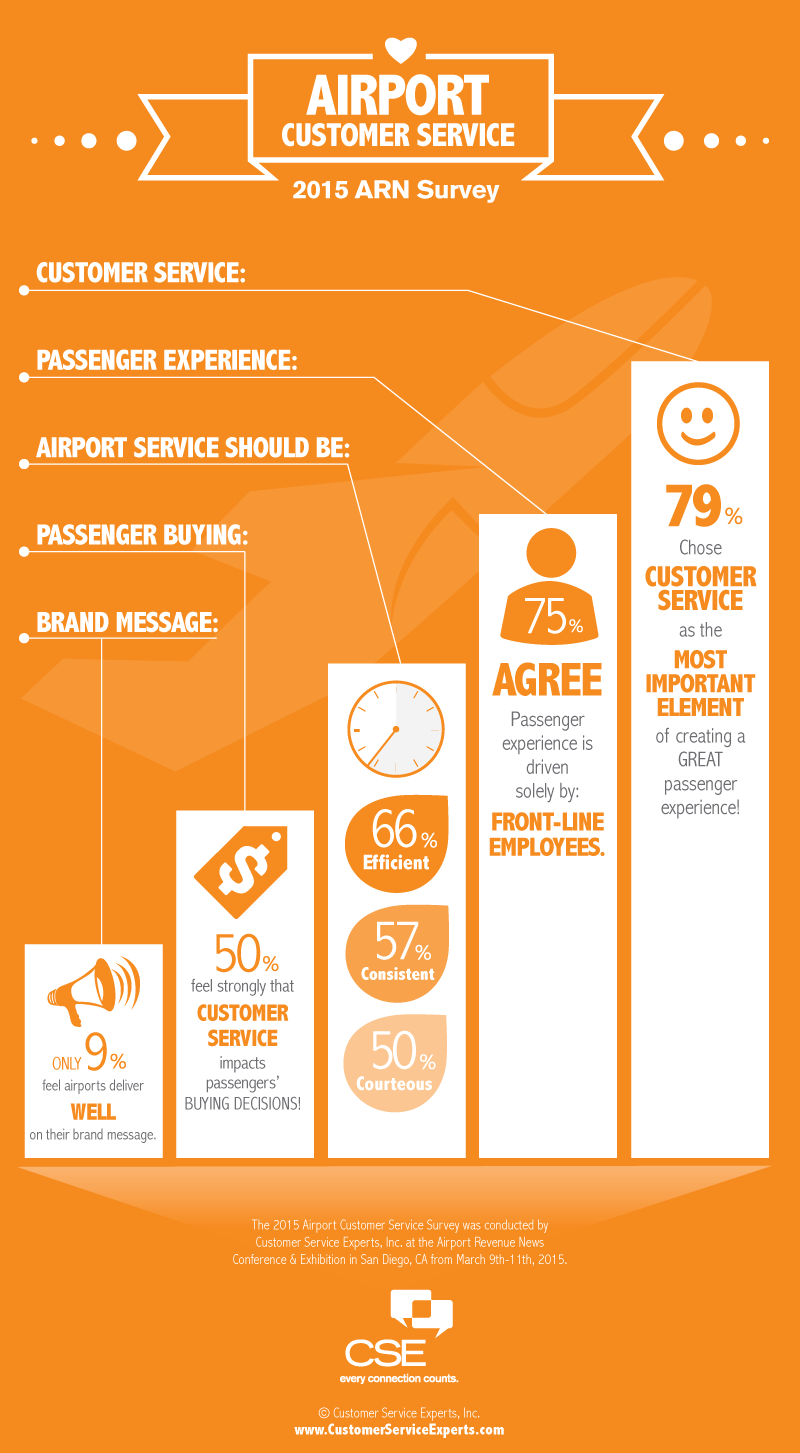 Yes, it is true that passenger interactions are mostly with front line employees; however, is it true that the front line employee is solely responsible for the airport passenger experience?
Consider this:
Front line employees do not create policies

Front line employees do not schedule training

Front line employees do not determine what gets measured

Front line employees follow the example of their leaders

Front line employees need timely, accurate information
The front line's interaction with passengers is the culmination of lots of planning, preparation, and decisions coming together to deliver a wonderful airport passenger experience. Most of this decision making, planning and preparation is driven by the organization's leaders and managers. Think of this front line interaction as opening night for a Broadway show: Yes, the actors deliver a wonderful audience experience, but would they be able to if it weren't for the lighting, costuming, and set design departments? Or the director, voice coach or producer?
So yes, it is easy to blame or praise the front line for airport passenger experience results, and it is also imperative to understand that the front line doesn't act alone...leaders and managers must take responsibility to:
Make decisions that ultimately help support employees deliver wonderful passenger experiences

Plan policies that ultimately help employees deliver wonderful passenger experiences

Prepare your teams with training, development and information that will ultimately help deliver wonderful passenger experiences
Need help preparing your teams? Contact us!
Also, our Airport Coaching Guide & Action Plan is a great tool that will help you develop your teams based on customer feedback!