Last month, February, is filled with many reasons to be happy. The obvious falls on February 14th, when love abounds and kindness comes easy. Other February days that embrace and share happiness are National Pizza Day (2/9), National Love Your Pet Day (2/20), and National Clam Chowder Day (2/25) just to name a few! The Westfield team at Newark Liberty International Airport took happiness to the next level last month. Training EWR employees to be secret agents of kindness, these exuberant agents-of-surprise delighted airport guests with random acts of kindness.
We were lucky enough (and quite happy, too) to speak with Sherri Smith, General Manager of Westfield Airports at EWR, about the evolution of their #SayHAPPY program and its impact on airport employee and guests.
Sherri, what spurred the creation of this program?
We started the #SayHAPPY campaign and Random Acts of Kindness to further enhance the travel experience at Newark Liberty. Travelers want to be engaged during their trip with little moments that surprise and delight. We are training our frontline customer service associates to be "secret agents of happiness." These secret agents of happiness will target a few random customers to provide an infusion of joy to enliven their travel experience with random acts of kindness. We want every traveler who comes through Newark Liberty to have an efficient, memorable journey, and these random acts of kindness are a fun chance to deliver smiles along the way.
How has this program impacted the passenger's travel experiences? What are some of your favorite airport stories?
Travelers love the Random Acts of Kindness initiative. There's power in the joy it creates, and travelers even pay it forward. For example, we worked with an operating partner to target a few customers waiting in line to buy coffee and donuts and offered to pay for their purchase. The customers were so moved by this act of kindness, they in turn purchased meals for others. There was this awesome snowball effect of kindness, and it showed the manager what a program like this can do.
What can we expect to see next in airport terminals as it pertains to improving passenger's experiences? What are some emerging trends you see in customer service improvement?
Westfield's vision for the ultimate travel experience is a holistic one. We need to impact as many touchpoints as possible along the journey. That means building amazing physical spaces, integrating technology, and empowering the people who make it all possible. Only when you combine all three of these things do you arrive at the ultimate travel experience, which is the key to elevating customer satisfaction.
At Newark Liberty, we're empowering our frontline customer service agents in not only customer service excellence but also in security and safety. They're becoming "hybrid" agents of service and safety who will be invaluable in providing a great experience while keeping travelers safe.
What advice can you offer for airport concession employees and managers as it relates to improving the overall passenger experience?
The airport is a transient place. Many times, people are not themselves. For many people, traveling can be overwhelming and frustrating. I always tell myself not to take anything said or done personally. Instead, treat everyone with authentic kindness. This will take training and practice. And even though it is much easier said than done, it can be done.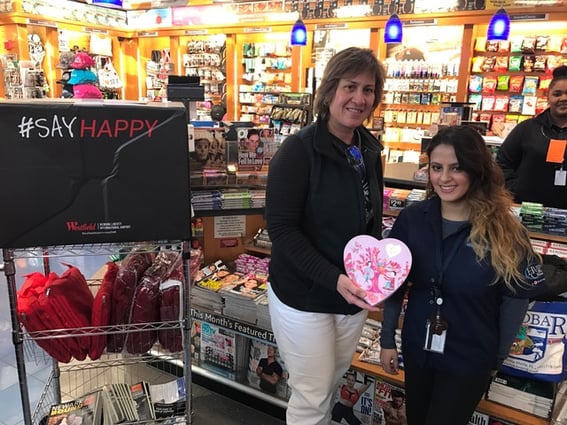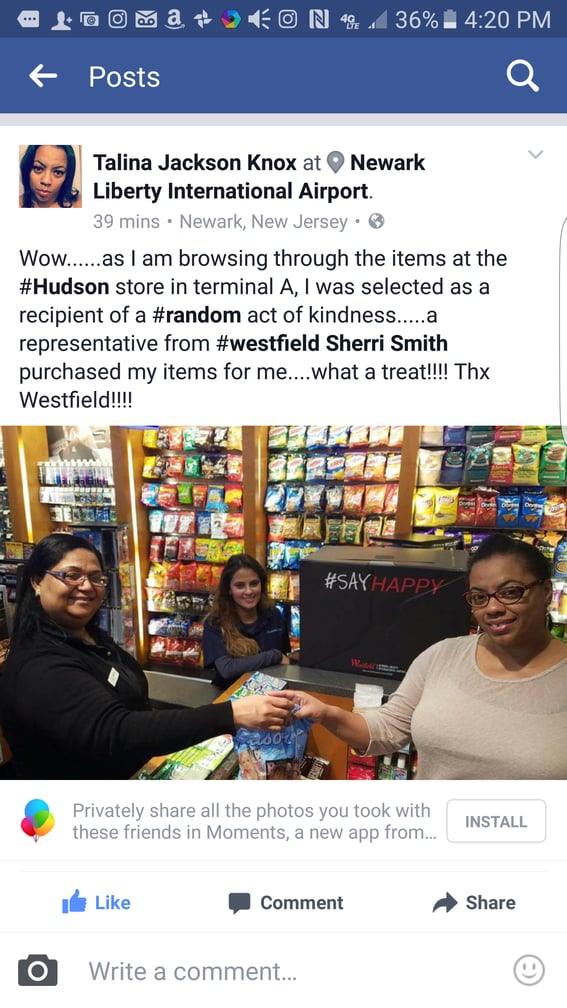 Photo: The Random Acts of Kindness program in practice. A customer reacts positively to being surprised by Westfield team members and shares her experience on social media.