Here's a post that we shared during the Holiday Season 2 years ago. While life has changed a bit since 2012 (we are now on version 6 of the iPhone!), the tips for surviving the holiday rush are still relevant. Check out these 5 tips and add your own if ya got 'em!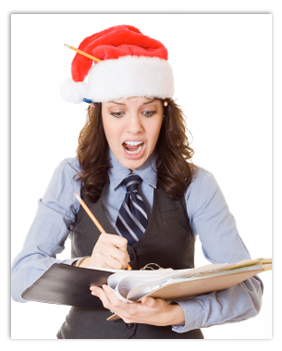 It's the most wonderful time of the year! The Holidays are here-family, friends, gift buying and giving, volunteering, traveling…on TOP of your already busy work life!
Some also consider it the most stressful time of year. However, that doesn't need to be the case. With a little bit of planning, some perspective and a great attitude, these simple 5 holiday service tips can help take the edge off the holiday crazy:
1. Play the Customer:
Every morning, or at least once per day, play "customer". Look at your website, enter your place of business from the customer entrance. Pretend you've never been there before. Answer these questions; is this place easy to navigate or shop/dine in or is it confusing? Would I rate it as clean and friendly with a welcoming atmosphere? What one thing could I improve to make it more service-friendly for our patrons? Whether you play customer, member, client, patron or patient, you will constantly improve your service by performing this task regularly.
2. Dot Your "I"s:
Processes are usually put into place so that we don't forget a step and to ensure accuracy in our operations. During the busy season, it is tempting to skip a few steps or usurp the process in order to save time. However, more often than not, when we skip a few steps, it usually comes back to bite us in the end. If you find that a process step is unnecessary, then remove it! Customers and employees benefit from efficient processes that get the job done without the red tape.
3. Practice Service Urgency:
No matter what your business or product-when it gets busy, customers appreciate seeing that the staff is moving swiftly and with purpose to serve them. Think about it-when you are waiting for something, isn't it more tolerable when you see that the staff is being "service urgent" rather than lollygagging?
4. Employ an Ambassador:
Communicating with your customers is one of the best ways of providing customer service. It is especially important during the busy season when operations may be modified a bit to handle the influx of business. Employ your most knowledgeable person to be an ambassador near the front entrance or the registers: to greet, answer questions, direct traffic and pitch in where needed. Oftentimes organizations put their novice people in this position. However, a senior person is better suited for this role because they are usually knowledgeable about all aspects of the business, can handle tough questions, can take charge of the area if needed, are not tied to a register, and can troubleshoot issues before they become problems.
5. Feel the Rush:
This is a busy time, yes it's true! The good news is, busy is what we all want to be so that we can earn our "relax" time. We are in business to serve, sell, inform, whatever it is your organization does. If we weren't busy, then we wouldn't be in business very long! So, soak it up, have a positive attitude, enjoy the rush, keep a smile on your face and possess a servant's heart. Soon it may not be so busy and you can celebrate the fruits of your labor!
What other ideas does YOUR organization implement to successfully handle the Holiday rush?