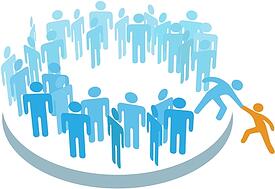 In a changing environment, how are airports adapting to their passenger needs? How are they preparing their employees for the demands of airport passengers while providing the information, goods and services that they are seeking- all with a smile?
In an airport environment where many different entities come together to serve passengers, an onbording program for airport employees is extremenly beneficial. Beyond the badging process, have you considered offering a formal onboarding program for your employees in the airport? Below are 5 benefits of initiating an employee onboarding program for your airport:
1. EMPLOYEES ARE YOUR BIGGEST ASSET.
For most businesses, employees can make or break your bottom line. Investing resources toward keeping employees informed, creative, productive and loyal are well worth the effort.
2. IT GETS EVERYONE ON THE SAME PAGE.
Effective airport employee onboarding sets the stage of expectation in your airport. The airport's behavioral and operational standards are shared here so that each employee delivers consistently, and each passenger receives a consistent experience regardless of where they are in the airport.
3. IMPROVED PASSENGER EXPERIENCE.
Passengers who visit or fly-through your airport are constantly evaluating their experience with every interaction and prcess they encounter. They do not think of your airport as a collection of businesses, rather, they evaluate their experience based on the whole of their interactions with each entity within the airport environment. A comprehensive program that introduces each employee the airport, its layout, the services available and their locations, etc. will ensure they are prepared to deliver a wonderful passenger experience beyond the confines of their post.
4. REDUCE COST!
Costs of employee turnover are estimated to 30-50% of the annual salary of entry-level employees, 150% of middle level employees, and up to 400% for specialized, high level employees. According to SHRM, the Society for Human Resource Management, it's estimated to cost $3,500.00 to replace one $8.00 per hour employee when all costs were considered. Effective employee onboarding fosters loyal employees.
5. SUPPORT A PRODUCTIVE COMMUNITY.
Perhaps the most significant benefit of effective employee onboarding is that it is used to help create an airport community- rather than a mere grouping of stores, restaurants and services that happen to be int he same building. perpetuate this community by welcoming each new employee into it on their first day of work.
Capitalizing on employee excitement on their first day of work is a great time to engage employees in their onboarding process. Many airports have found success in implementing this alongside the badging process. For more infomration on how to prepare your eairport employees to deliver great passenger experiences, check out our resources below.
LEARN MORE: