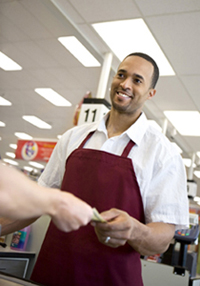 I represent your brand and service your customers daily; I am one reason whether or not your customers decide to become loyal fans of this organization. I have the ability to create memorable experiences. I am the face of your company. Who am I?
I am your front-line employee. Just consider how many customers your employees come in contact with everyday. How many customer impressions they have the pleasure, responsibility, opportunity to make. Consider an extreme example, like McDonald's. The fast food giant reports serving a whopping 47 million customers around the world daily. That's a lot of impressions! Customer impressions are driven by a multitude of factors: company processes, the environment of the physical location, and most importantly, people. Front line employees are the direct link to a customer's experience and ultimately their level of satisfaction.
In your organization, if the front line is busy serving your customers, who is serving your front line? Who is responsible for your employee's experience? If you are a leader, you are.
"Previous research has established a strong correlation between employee satisfaction scores and subsequent customer satisfaction scores…" says David Witt, Program Director at The Ken Blanchard Companies.
Ideally, the employee's experience is one that creates employees who are engaged: with their company, their co-workers and their customer. Highly engaged employees are more dedicated, committed, and skilled thus creating a positive impact for the company and its customers. According to a Gallup study, companies with higher employee engagement levels enjoy greater growth in earnings per share. Clearly, an engaged workforce has bottom line benefits. Once companies realize this, every organizational leader begins to understand that they serve the front line teams within their company, operation or store, and are responsible for developing their teams and creating their employees' experience.
To provide a stimulating environment that supports and inspires engaged employees, leaders should:
Create a work environment that is positive and employee focused.
Provide ongoing training, development, and opportunities to learn.
Ensure processes are customer centric andemployee focused.
Develop a relationship with your employees, have frequent interpersonal contact with them.
Guide your team with a vision and set standards that will enable you to offer employees consistent feedback and direction.
For more information on our employee engagement strategies, please see our Solutions page.
For more information on how CSE can help your organization improve employee engagement, please contact Holly Buckner.