Employee Survey Results: Action Planning
What did you do with the survey results the last time your organization engaged in an employee survey? Do your employees dread giving their feedback because nothing ever changes

?
Ensure your employee survey results don't sit in a drawer with CSE's Survey Strategy Session. Soliciting feedback via employee surveys provides valuable insight into employee perceptions—and taking action on that feedback is critical for organizational improvement and employee engagement.
Employee surveys can improve organizational effectiveness and increase employee loyalty and engagement, only if you act on the results. Opportunities from survey results are best addressed company-wide with a strategic plan. CSE facilitates action planning workshops to help organizations develop the most effective solutions and action plans to facilitate ongoing improvement.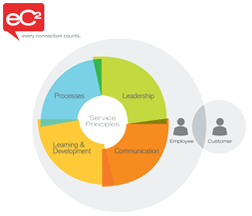 CSE's Survey Strategy Session is designed to address the core aspects of the eC²® model—service principles, learning and development, leadership, processes, communication and employee engagement, and chart a relevant, realistic, actionable path to service improvement—based on your survey results and customized to your organization. Recommended after every e4Survey®, the Survey Strategy Session will:
Identify the drivers and root causes of opportunities and successes
Establish a road map for a global action plan based on survey results
Prioritize action plan based on resources.
Establish plan to communicate survey results throughout the organization