Ambassador Training
Is each new hire in your airport receiving a CONSISTENT message? How are you imparting your airport's values and standards to employees?
When each person in an organization is working toward the same goal and operating by the same standards, a more harmonious and efficient workplace is achieved. How do we achieve this?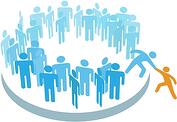 CSE has particular expertise in helping organizations craft their service vision, and then educate the whole team on how to apply them in their particular role. Once these have been established, CSE instructional designers will create an Ambassador Training program to roll out to each person in the organization and then subsequent new-hires as they are hired.
The training implementation is designed to fit YOUR needs. For example:
You have in-house training capabilities:
CSE will train your trainers
You have a centralized office:
CSE trainers will conduct on-going classroom sessions
CSE has extensive experience designing
airport ambassador training

for concessionaires, master concessionaires, airports and developers, and each of CSE's training programs are designed for maximum learning transfer.